We just came back from a three week break and I'm still pretty jet lagged; today is May seventeenth and it has been a full week now since our return.
We were in Maine; a part of the US we would never have considered if it were not for the descriptions in stories by Stephen King.

I was expecting lush green landscapes, solid beginnings of what would turn into another widely recommended reason to visit Maine: spectacular and endless variations of fall-colors.
When we descended through the clouds and saw the coast of Boston appear we understood we were really quite early.
Drab brown and pale yellow patches with near black and leafless treelines watched us getting closer and closer to touchdown under an even dark grey sky.
We were somewhat unhappily surprised and hoped it would not matter, we were here now and neither one of us is able to resist very long that some things are what they are.
Besides -so my hopes reasoned- this was not yet our final destination and things change while we are here [indistinct laughter in background].
I was partly right in my wishful predictions. After our first night in the US, Boston treated us on extremely sunny weather.
---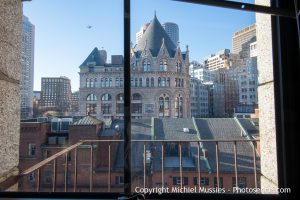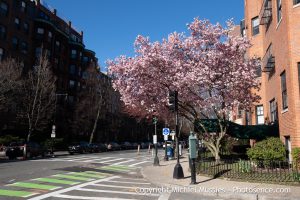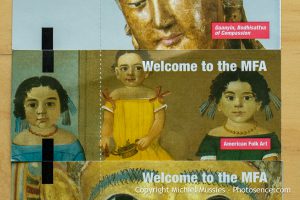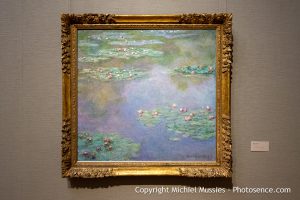 ---
We enjoyed a beautiful day exploring the city with its river, squirrel ruled parks and pale pink blossom trees that looked like frozen fire works.
Paintings I never thought I would ever see in real life made our visit to the Museum of Fine Arts almost worth the entire trip alone.
As with any larger Museum we enter, the amount of interesting content is too big to take in on a single visit.
After a thorough introduction to the styles and efforts of a number of American painters we were done for this year; a substantial number of square museum feet just seemed uninviting to us.
We split our stay in Maine into three locations. After picking up our rental suv we took interstate 93 to our first address.
With a detour to the heart of New Hampshire we took route 1 to our port of business, near Augusta.
---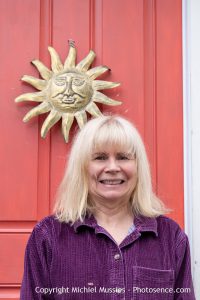 ---
Run by a very hospitable Andrea our first Airbnb was located in Hallowell, a small community right next to the Kennebec river.
With rain, mist and low temperatures the weather of a delayed spring was exactly what mud-season was supposed to be; (5th season known to Mainers).
We took daily walks, went to Portland, explored Augusta and we took drives to anywhere the wind would take us.
I spent time discovering Hallowell through the lens too and I and shot what seemed to me echoes of some one else's iconic images.
A barbershop, a war vet going into his apartement, streets with the national flag every 10 houses and a Peyton Place church and a decomissioned railroad track with neighbouring houses that probably knew better days.
---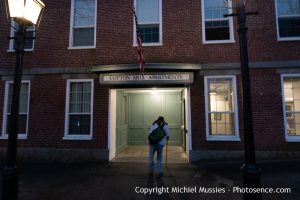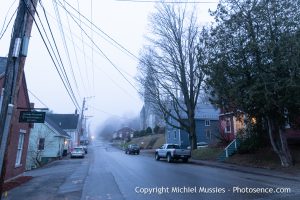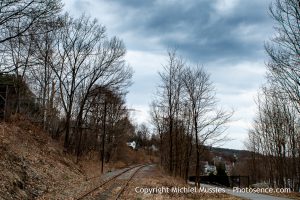 ---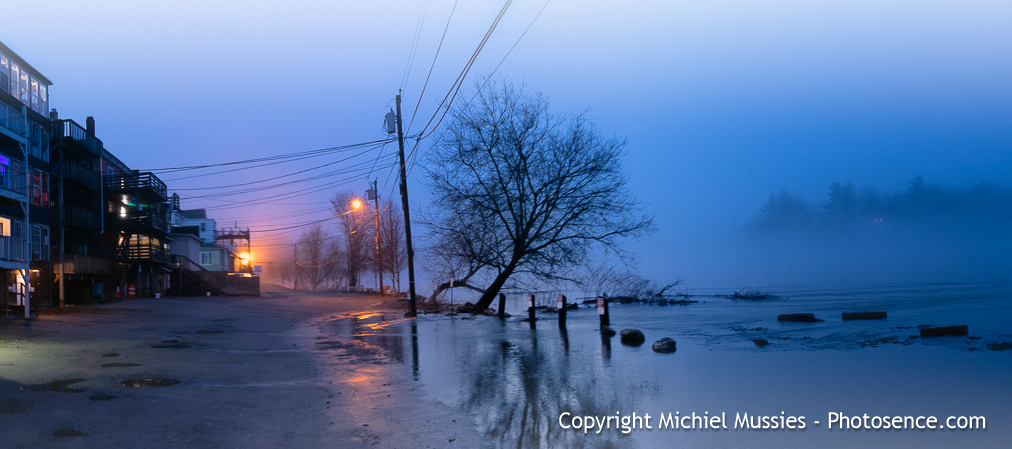 ---
Accompanied by wet, shiny streets and flanked by the river that came close to the back of houses on main street the shooting was quite okay-
I missed a laptop to check how I was doing though. Shooting handheld like this was an unforseen way to test the limits of the new 15-30mm Tamron lens.
Now, seeing the images on screen I noticed that using the autofocus was not ideal for some images, too bad but what to do for now. Manual focus next time around.
Our second destination was Ellsworth- I was looking foreward to it- a change of scenery and a choice that was more aimed at shooting too-
We picked Ellsworth because it was close to Acadia national park; a choice that did not disappoint us. Almost every day was spent hiking or simply sitting in nature and we explored quite some sections of the park.
---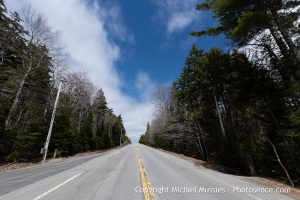 ---
Our dinner was either home-cooked at our second airbnb or we had it at Finns, an Irish Pub across the Grand, the cinema in the old heart of Ellsworth. The cooking was good there and there was live music every time we visited.
Because we were in off season Maine we enjoyed a lot of time alone; the only people we met were helpful Mainers and some gladly shared what places were less known to tourists.
Some -by their own admission- more beautiful than the more popular locations.
One of these places was Deer Isle, a peninsula where almost everyone of able age was either into lobster fishing or an artist.
Halfway our stay- an old friend came over from Nova Scotia, we were going to meet at Finn's and we ran into each other at the parking lot just before we picked a spot.
We has a great dinner together, handed over Nicaraguan cigars we bought for him in Amsterdam and split up for the night. Next day was breakfast in Denny's and after that Acadia park to shoot and explore.
Jerry loves photography as much as we do; he is precise and patient about the shapes and forms that he harvests for his images.
Like our own stuff, his photography is marked by the existence and beauty of the non-dual reality of life. We talked a lot about art and photography, inspiring and enjoyable.
In J's words, we ruled Maine. When it was time for him to go home, we felt that two days was too short for us. Next time we will make up for it.
---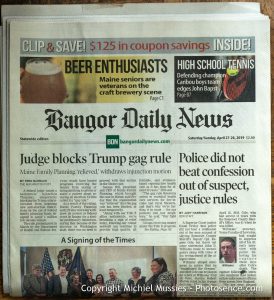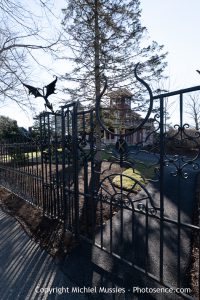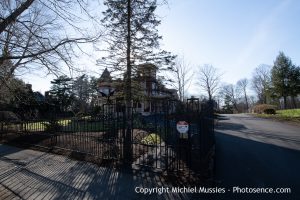 ---
We visited Bangor a couple of times too.
A nice place to hang out but not very photo genic. Of course we looked up the home of the Kings.
One of the people we befriended in Hallowell briefed us on this excursion. Juliana knew that Stephen and his wife now lived in Florida and that one of their children currently stayed in the Bangor place.
An aging Mercedes rested further up, in front of the main entrance. Although the open driveway gate was tempting I did not trespass for a closer shot of anything.
I spotted a basketball hoop up ahead and saw myself playing horse in Oregon, ages ago. No players here, we didn't see or hear anyone. The hand made, themed fence with its monographed emblem was an interesting curiosity. The only other noticable feature was the size of the place, impressive for a few seconds and then my time was up. I had seen enough.
---
---
I took two shots that proved we had been there. A quick chat with a Swiss couple that pulled over concluded our visit. They were on a mission to see the author's house on West-Broadway too. Coming to New England, they understood why Maine went so well with the author's genre and style and- I broke off the conversation with curt interjection of wishing them a good stay; stressing we needed to pack.
When left Ellsworth for this trip's last destination, the first bears came out of hybernation; right where we had stayed.
–This article turns out to be longer then I expected. Read part two